Although i'm not a very good player, i do enjoy playing in public, as described below:
Jams, Open Mics, Performances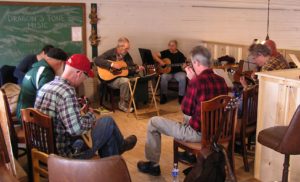 Each week on Saturday i participate in the Micaville jam, hosted by David Wiseman and myself. It is held at the OOAK Gallery from 10:00a to about 12:30p. I first met David at the weekly "Biscuits and Jam" held at Dixie's in Spruce Pine. When that closed, the two of us moved the jam to Micaville. Gradually more and more people joined us; attendance now falls in the range of 10~18 musicians each week, and sometimes includes a handful of listeners.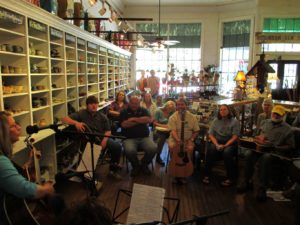 I am the organizer/host for BobFest, an annual spin-off from the Micaville jam held in May to celebrate Bob Dylan's birthday. For BobFest, we typically have about 20 local musicians playing a couple of dozen Bob Dylan songs. The four that have been held so far have been well received by local performers and attendees.  In addition to organizing it, i write a Parody(lan), a parody of a well-know Dylan song.
We've also held a well-received "British Invasion Fest", featuring songs by British musicians that became popular in the U.S. during the 1964-1966 time period, and a "Canada Fest", featuring songs by Canadian songwriters.  Future plans are for a Fest of American songs from the 1950s, and, of course, another BobFest.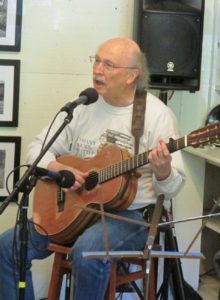 For about a year i have gone pretty much weekly on Wednesdays to practice at Maples Coffee Shop in Micaville.  Most times i take a guitar and sing covers or original songs.  Occasionally i take Chimera and play instrumentals by ear.  (Early on i played my concertina on occasion, but was asked to forgo that due to the unacceptable loudness.)
I also play occasionally at open mics (e.g., at the Pizza Shop in Spruce Pine) and at the Member/Songwriter night at the Dispensary in Spruce Pine. In addition, about a year ago i performed a full solo concert at one of the Thursday night music events hosted by OOAK, and very recently a mini-concert at Maples.
Aspiration
"Aspiration" is the name of a group of musicians that i play with weekly. For the most part, we were students of Rhonda Gouge who came to playing instruments late in life. When we first got together, we comprised three and a half guitarists and one and a half banjo players. (One member alternated between guitar and banjo.) Eventually i switched to bass guitar to give our group more tonal variety. Lately i have also been taking my concertina and playing it on a few songs.