Taz is my workhorse.  He was made by Darren Hippner, a luthier based in Point Roberts, Washington.  (Point Roberts is a peninsula attached to the British Columbian mainland.  It is accessible by land from BC, or by ferry from Bellingham, WA.)  Darren is best known for classical guitars; he has made relatively few steel strings.  Although Taz is an example of what Darren calls his OM model guitar, Taz is actually a small 00 in size.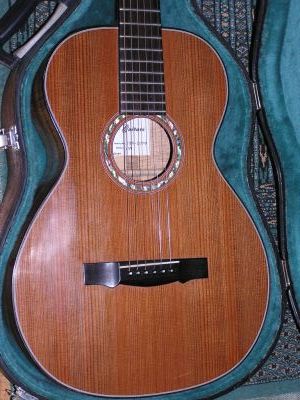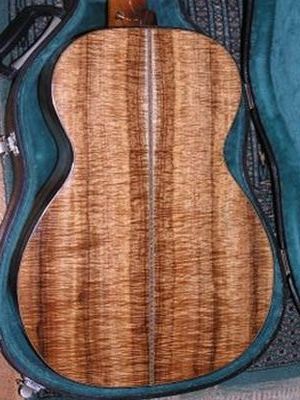 I bought him off ebay.  I was quite confident that i would like the tone since at the time i owned a small Hippner parlor guitar that i liked a lot.  Taz has Tazmanian blackwood (a close relative of koa) back and sides and a redwood top, both uncommon woods for guitars.  The original finish on the guitar was rather disappointing — very plasticy looking, which obscured the beauty of the wood.  I sanded off the finish and had Jeff Merck remove the bridge so that i could refinish with shellac using a French polish techinque.  The French polish greatly improved the look of the back and sides.  Unfortunately, an accident in the bridge reinstallation process and my own inexperience prevented me from doing a very good cosmetic job on the top.  The tone, however, is excellent — mellow, with a good response throughout the spectrum.
Recently i had David Wiseman install a K&K pure mini pickup. I'm looking forward to hearing how it sounds when i play out.
For Taz I use Newtone Heritage strings, which have low tension that is evenly distributed over all the strings.