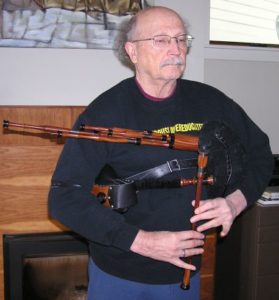 Although i played the Great Highland Pipes in a pipe band in New Orleans for nearly 20 years, these days i've moved on to Scottish Small Pipes, which are more appropriate for indoor playing.  The fingering of the chanter is the same as the GHP's, but because the reeds are much smaller and very susceptible to moisture (e.g., from the breath), the small pipes use bellows to supply air to the bag.  Thus they are somewhat more difficult to play, since one needs to coordinate fingering the melody on the chanter, squeezing the bag with the left arm, while pumping the bellows with the right arm.
My pipes were made by E. J. Jones, a piper and instrument maker now living in Asheville. The woods are Mopane (the brown wood in the pictures below) and African blackwood, the wood traditionally used for the GHP. The bellows wood is cherry i believe.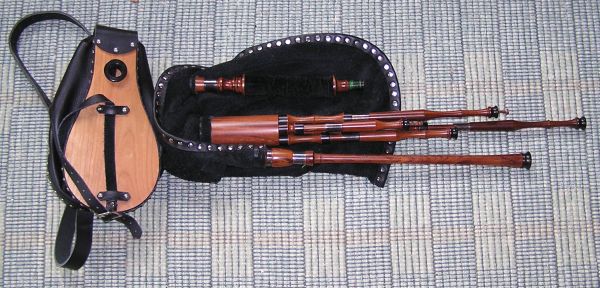 I first met EJ at the Celtic Nations Festival in New Orleans, where he was playing GHP and flute with the Houston-based band Clandestine, one of my favorite Celtic bands.  (No longer active, unfortunately.)  He now has a local Asheville band; they play every year at the Swannanoa Solstice performance held in Asheville's Diana Wortham Theatre.